Programs and Events of the CHF
2018 Programs – upcoming programs to be held at the Chestermere Public Library following the regular meetings of CHF. Watch here for dates and details. 
Sport Excellence in Chestermere  – Bill Peddlesden – stories of some of those who excelled in Chestermere in sports; possibly a panel of any who are still living;
Pre European Settlement History of Chestermere – Todd McBride ; fur trade, RCMP, what was happening before the railroad came; first European contact
Indigenous History of our Chestermere Area – Ray Blanchford.
Historic Calgary Week 2017  –   Kay Clarke, July 31 2017 "Early Farm Settlers and Formation of the Lake"  at The Whitecappers Room 201 W Chestermere Drive, 7pm.  Her talk emphasizes the interdependence of Chestermere and Calgary.   For the whole schedule of Historic Calgary Week click here. 
Talks by CHF members on the history of Chestermere, Fall 2016, February, March, April, and May 2017.
Guided Lake Tours on the Seniors Week launch tours of Chestermere Lake 2016 and 2017
Historical Murals on the entrance to the boat launch and public works building 2013 and 2017
Presentations to schools – 2007 to 2017 and ongoing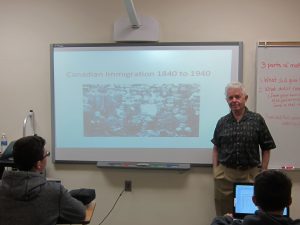 Aspen Crossing  – Dessert Theatre Productions in aid of the 1952 fire truck restoration. Read more about the truck here.
The War Brides are Coming and Troop Train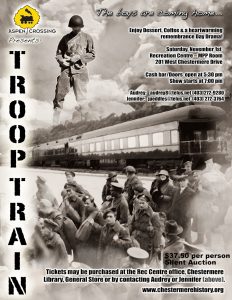 Displays in the library