Projects and Events of the CHF
Walking tours of Chestermere and Elliston Park – all summer 2019!
Join Chestermere area resident and local historian, writer and researcher Shelly McElroy as she walks and tells you the wonderful stories of early life in Chestermere area and all about Elliston Park and its historical areas surrounding.  Walks in Chestermere are Thursday evenings 7-8:30 pm starting at the Chestermere Public Library 105b Marina Road, and walks in Elliston Park are Friday evenings 7-9pm starting at west parking lot 60 St SE and 17 Ave SE. Contact Shelly for more information    Walks are going all season except for nights when the Stamps play!  Check black out dates on her posters here.
Lunch at the Calgary Yacht Club and Social 
Tuesday March 19th 11:30am to 2pm– Subway lunch ( silver collection),  beverages provided at Calgary Yacht Club 635 East Chestermere Drive.  Lunch/social with meeting to follow.  Discussion on the upcoming play to be mounted in August, the planned public art cairn from historical materials from the SVCL and Town of Chestermere also, hear more about the long history of the oldest sailing club in Alberta.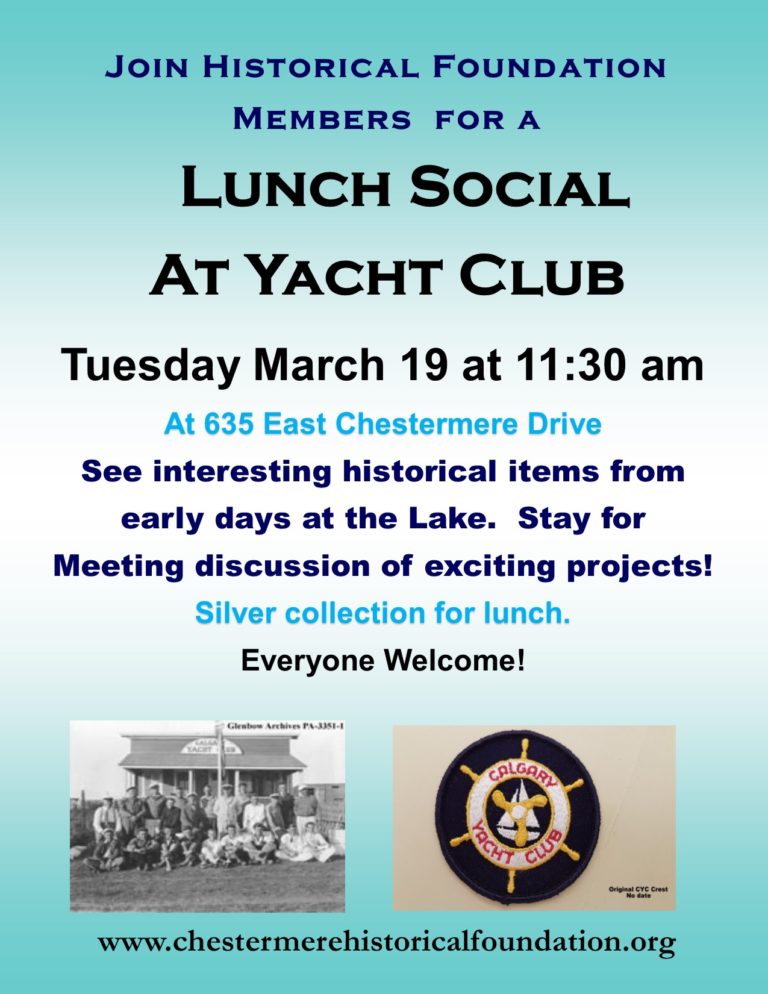 What is the story behind that big white barn?
On February 19th 2019 at 7:30pm following the CHF AGM, learn more about this iconic barn and its significance to the history of the Ellis family in the Chestermere area.  And what about Elliston Park?  Hear more from Carole Ellis Drury the daughter of CW Ellis.  FREE, everyone welcome, family friendly history right here in Chestermere.  Thanks to Emily Parker at the Anchor for this excellent article about the Ellis farm. https://issuu.com/anchormediainc/docs/chestermere_anchor__march_07__2019
Historic Chestermere Materials to become Public Art
Thanks to the donations from the City of Chestermere over the past few years ( 2017-2019), CHF is moving ahead to use these pieces of historic material to create a cairn, or piece of public art to be displayed in a park in Chestermere.  There are two brass plaques, a pile of bricks from the original summer village office, address numbers and the letters TOWN.  Work is being done now to create a budget, and apply for permission to use AGLC proceeds from our 2017 casino to build this great memory of what Chestermere has been.  Anyone interested in participating, please get a CHF membership now and get in touch, this will be an exciting and unique addition to the art in Chestermere.
Play About Chestermere Being Written

 
Thanks to the hard work of volunteers at the AGLC casino last fall, Chestermere Historical Foundation has been able to use these proceeds to engage a playwright and dramaturg to write a play about Chestermere's history to be performed on August 25th 2019 in the John Peake Park pavilion.  It will be a family friendly play, and will be approximately one hour in length.  Presently a committee is working with the playwright –and anyone interested in helping as the drafts are reviewed and possibly revised, is welcome to participate.  All you need is a $5 membership in CHF!  Click here to do that, and then contact us if you are interested in being on this committee.  Stay tuned!
Prehistoric Chestermere – where did those camelops and giant beavers go?
Join Cory Gross at the Chestermere public Library 1pm on Saturday November 24th 2018  for an engaging family friendly one-hour program on the prehistoric story of the Chestermere and Calgary area.  Cory is a geologist, and graduate from U of C in the Museum Heritage program and an educator at the Glenbow Museum. http://www.sandstoneprehistoricsafaris.com  His 'animal suitcase' will fascinate everyone young and old.  Check his webpage for more information.  Cory is author of 'When Dinosaurs and Sabretooths Roamed the Bow Valley' one of the many engaging stories in the book " In the Footsteps of Giants," a compilation of events and personalities from Calgary's early history, especially for young readers, edited by the Chinook Country Historical Society.
November 28 – It was a great day sunshine and fresh snow, and this program kicked off Winter Lights Festival.  Lots of happy faces as Cory let the participants handle his fossilized animal teeth, his model animals from the prehistoric era, and the tiger's sabre tooth!
Historic Boat Launch Trip – Virtual Version
Missed the historical launch trips that were held on Chestermere Lake this summer?  Don't worry, you can catch all the photographs AND stories in the comfort of a nice chair in the Chestermere Public Library, Tuesday October 16th at 7:30pm in the Community Room.  FREE, everyone welcome, this is also child friendly.  Hear some interesting and fun stories about the history of this lovely lake community from pioneer times to present day.  For information 403 200 8046 or 
2018 Historic Calgary Week August 2nd Boat Tours

  – (see here 2018) 
A Day in the Life – History for elementary kids ( at local Elementary Schools throughout the year)  This year, a new venue, CRCA Day Camps August 7th and 8th – CHF did two programs, one on the history of the lake and the Calgary Yacht Club, and another A Day in the Life with homemade butter and other special presentations.   (see What's Happening )
Sport Excellence in Chestermere  – Bill Peddlesden – stories of some of those who excelled in Chestermere in sports; possibly a panel of any who are still living;
Pre European Settlement History of Chestermere – Todd McBride ; fur trade, RCMP, what was happening before the railroad came; first European contact
Indigenous History of our Chestermere Area – Ray Blanchford.
Schools in Chestermere – Kay Clarke
Seniors Week Launch Tours June 4th 2018.
Historic Calgary Week 2017  –   Kay Clarke, July 31 2017 "Early Farm Settlers and Formation of the Lake"  at The Whitecappers Room 201 W Chestermere Drive, 7pm.  Her talk emphasizes the interdependence of Chestermere and Calgary.   For the whole schedule of Historic Calgary Week click here. 
Talks by CHF members on the history of Chestermere, Fall 2016, February, March, April, and May 2017.
Guided Lake Tours on the Seniors Week launch tours of Chestermere Lake 2016 and 2017
Historical Murals on the entrance to the boat launch and public works building 2013 and 2017
Presentations to schools – 2007 to 2017 and ongoing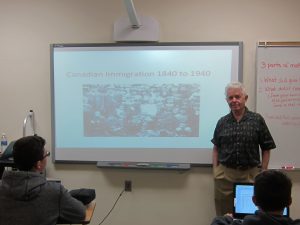 Aspen Crossing  – Dessert Theatre Productions in aid of the 1952 fire truck restoration. Read more about the truck here.
The War Brides are Coming and Troop Train
Displays in the library
Project