Donors to the Restoration of the Chestermere Ford 1952 Fire Truck  
Other Donors and Sponsors for Chestermere Historical Foundation Work 
Thank you to our donors and supporters.  The names of those who have contributed $500 or more to the restoration of the 1952 Chestermere Ford Fire Truck will appear on the truck.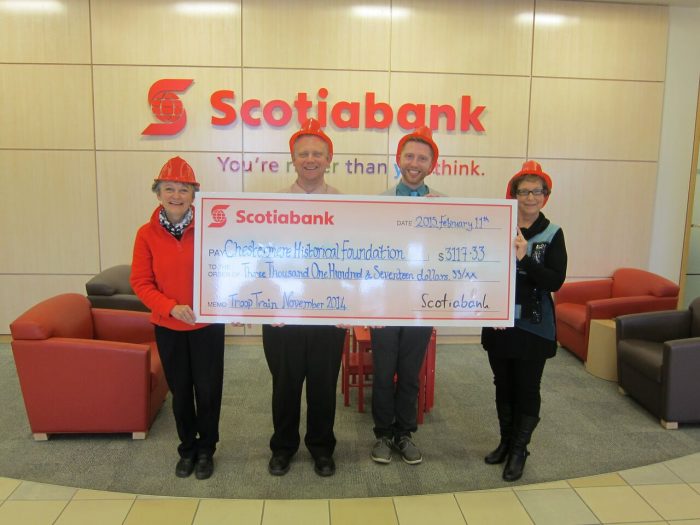 Thank You Scotiabank Chestermere 
Matching Grants  Scotiabank for Fire Truck – Chestermere 2013 – 2018
  ~ $ 15,008.70 ~
2012 ( photo not available) A happy day for Chestermere Historical Foundation as they receive $4388 in and $3900 in matching funds in 2013 from Darren McCagherty Manager of BNS Chestermere.
Dec 21 2015 Chestermere Historical Foundation is pleased to accept a cheque for $1172 as matching funds from Scotia Bank's Managers Leighton Milliken and Greg Moffatt.   Jen Peddlesden, Manager Leighton Milliken, Manager Dylan Dornstader and Audrey McDonald receive matching funds of $3117.53 from Scotia Bank Feb 2015 for firetruck restoration. September 2016 Leighton Milliken and Greg Moffatt present Kay Clarke and Audrey McDonald with a cheque for $1120.15 for restoration of the 1952 fire truck.
11 February 2015 Jen Peddlesden CHF, Leighton Milliken BNS, Dylan Dornstader BNS and Audrey McDonald CHF with cheque for #3117.53 matching funds presented towards restoration of the 1952 firetruck.
On December 21st 2015 the Chestermere branch of Scotiabank presented a $1172 cheque to the Chestermere Historical Foundation; L to R Leighton Milliken BNS, Audrey McDonald CHF, Lori Nielsen CHF, Jen Peddlesden CHF, Greg Moffat
-20 September 2016 Presentation of cheque for . from Scotia Bank Chestermere to The Chestermere Historical Foundation  for $1120.15 for  restoration of the fire truck. L to R Leighton Milliken BNS, Kay Clarke CHF, Audrey McDonald CHF, and Greg Moffatt BNSfatt BNS
On Thursday July 13th 2017 BNS Chestermere, Leighton Milliken and Greg Moffat, presented The CHF with a matching funds cheque of $1311.02 Towards further restoration of the 1952 Ford fire truck.  Thanks again to BNS for their continued community support of this initiative.
Alberta

Historic

Resources Foundation
With the help of grant writer Ross Duncan ( City of Chestermere) in January of 2014, CHF was able to apply for matching money to assist with the restoration of the firetruck engine and mechanicals. Carlo LaForge, from AHRF, was pleased that we were taking the time to restore the Ford motor to its original state rather than putting in a different or more easily restored motor. The monies received through AHRF are from Alberta Lotteries.  The total received from AHRF of the matching grant of $9420, was $6371.95  in 2015 and $3048.05  in January 2017 for a total of $9419.90.
Chestermere Historical Foundation Donors

Chestermere Historical Foundation $1000 Plus Donors
Chestermere Conrich Regional Recreation Board – $7 000 in matching funds for firetruck

The Collector's Gallery of Art – Romana Kaspar-Kraft $2000 in kind

Chestermere Car Show /Show 'n Shine Aug 16 2014 $3500 ( $2500; 27 Aug 2016 $1000)

Chestermere Historical Foundation
'$1000 Club' Firetruck Donors and other Generous Sponsors 
Truman Homes Ltd. George Trutina $1000

Concours Collision – Ken Friesen

Zeebs Performance – Zane Southgate
Chestermere Fire Truck '$500 Club' Donors
Asset Insurance Brokers – Greg and Mona Whiteley

Broadview Homes – Deryk Treasure

Bruce McAllister – MLA Chestermere Rocky View

Calgary Flames – Brandie Enns

Calgary Radiator Service

Canada Tire Doctors – Tire Install

Charlesglen Toyota – Glen Richardson

Chestermere Lifepath Wellness – Jed Snatic DDS

Corinne Watson – CIR Realty

D and J Sandblasting Ltd

Douglas Homes – Doug Musak

Economy Glass – Ian Viner

Heninger Toyota – Brian Heninger

Lifestyle Homes – Ryan Armstrong

Maclin Ford – Shelley McCullough

MadPiper Electric – Trevor Robinson

Melcor – Graeme Melton

MJ Towing Ltd

Sterling Homes Group Calgary – Mike  Richardson

Strathmore Ford

Sutton Group – Karen Gonzales

The Anchor Weekly

The Dan Meier Family for gift of the truck

WestCreek Auto Wash – Malkeet Aheer
Chestermere Historical Foundation "$500 Club" Donors Other Projects
Dr Jed Snatic – Lifepath Wellness $500 for photos used in Historic Launch Tours.

Chestermere Conrich Regional Recreation Board – matching grant of $500 for artifacts for school tours
Special  Donors
Thank you to those who have contributed to the restoration of the fire truck with cash donations or donations of time or in kind materials and auction or raffle items.
Alberta Treasury Branch

Anonymous

Boston Pizza Chestermere

Brent Paquette – Siren

Calgary Hyundai

Carolynne Hinde

Car Nutz Car Club Chestermere

Chestermere Car Show Show 'n Shine

Chestermere Fire Services Firehall #116

Chestermere Lakeside Kruzers Car Club

Chestermere Lions Club

Chestermere Regional Community Association

Chestermere Safeway

Dorothy Longair

Ellen Lorne, Artist

Darlene Toews, Quilter

Don Lemna

Epicure Products

Grace Sylvester

Jack and Audrey McDonald

Jean Miller ( ladder for truck)

Jiffy Lube Chestermere

John McLaughlin

Joyce Hodgson

John Kittler Chestermere Landing

Vince Young – Ytek Kustom Dsgnz – Project  Manager 2011 to 201

Lakeside Kruzers

M & M Meats Chestermere Robin Impey

Marian Boutin

Marshal Chalmers, Mayoral Candidate

Pepsico Beverages – Sheldon Mathews

Ray Hessler, CHF Member and Board Member

Shoppers Drug Mart – Salina Bandali Mgr

Sandeep Johal Watt

Sandra Smith

Sobeys Calgary – Forest Lawn

Sobeys Liquor Store – Lorraine Amyotte Manager

Target Forest Lawn

The Chestermere Historical Foundation

The General Store

Tim Hortons Chestermere – Andrew Mariott

Tommy Fleger

Town of Chestermere Public Works

Walmart East Hills
If you have made a donation and for some reason we have missed you please let us know immediately
Updated Aug 2019